1. The best live clip ever
The list of the most amazing proposals in 2012 is opened by a real hit. May 23, 2012 was probably the most memorable day in whole life of Amy Frankel. Her fiancée prepared an amazing surprise for her with the help of family and friends. What did he do? Isaac Lamb sat her on the back of a Honda CRV and put her headphones on.
It was supposed to be a song that she was to listen…Indeed it was – sweet, gentle and expressive Bruno Mars "Marry You". It wouldn't be so special if it wasn't for the fact that the car was moving slowly and different people were dancing to the rhythm of the song. The whole staging was professionally prepared and another people were joining consequently. At the end, Isaac appeared in the back and through the tunnel of people he came to Amy and ask her to marry him. Naturally, she said "yes".
The idea was perfect and the execution even better. The choreography and the presence of the closest people make the overall effect even stronger. There are thousands of ideas for the most amazing proposals in 2012, but this one…is awesome!
Number one among the most amazing proposals in 2012 need to be something out of this earth. This one fulfill this requirement. Could you think of something better?
2. Queen Marry II
A huge – literally – huge surprise made his girlfriend Stefan Libon. With the help of specialist and to the accompaniment of television show, he proposed to Jess Mc Garrity in a very unique and original way. Many of the most amazing proposals in 2012 took place in the air – here, the man chose water.
As Queen Marry II is a world famous cruiser, not to say reserved for the chosen ones, the task of hanging an enormous banner on the board seems to be impossible, or at least unbelievable difficult. That is why the idea is worth mentioning while talking about the most amazing proposals in 2012. Probably with the protection of the higher power, Stefan managed to do that and "Marry Me Jess" banner was hanged on the side of the ship.
The presence of the television, cameras and microphones enriched the already tense atmosphere and there was no possibility for the girl to say "no". There were some complications, but, we have to say that we cannot and are not able to coordinate everything. We are just humans. Nevertheless, for the couple, with all its in-coordination and little slips, so to say, the day will be the most unique they have ever gone through. As it is said, there have been offered to get married on the board of the ship, what would be an additional nice accent and, at the same time, incredible pleasant ending of the love story.
Naturally, the rest of the life is ahead of the couple, but we all keep our fingers crossed. Their proposal deserves to be regarded as the most amazing proposals in 2012.
3. Kendall's proposal over the internet
It would be inexplicable if today, in the era of the internet, someone wouldn't purpose using it! That is why Len Kendall's proposal is to be called "on time". "Katie I love you so much, I can haze your hand in marriage?" – this was Kendall's proposal over the internet employing the lolcal meme format. Isn't the idea worth placing on our list of the most amazing proposals in 2012?
We cannot deny that this young man goes with times and with progress! Internet is nowadays the most popular means of communication, that's for sure. Definitely, he might have some problems to convince her beloved's parents for the crazy idea, but we conclude that he managed to do that. With the help of his family and friends, and after few hours the meme appeared in the web, he got brave enough to propose in real.
Len Kendall's proposal are still very popular and gained huge admiration among all tough internet lovers as the most amazing proposals in 2012.
One thing that we cannot say about this young man is that he is old-fashioned. Today, we can only be surprise that so little people decide to purpose in the internet…for this invention embraces all the spheres of our lives, including friendship and love…
4. Guy Pulls Off Picture Perfect Engagement
Danny Pecka – a young, creative travelling salesman came up with an incredible idea to ask his girlfriend Robin to marry him…There are men, for whom memories matters a lot and, in some ways very reasonable, for their most amazing proposals in 2012 chooses the places, events, situations and circumstances that are close to the couple. It all started from his passion of taking photos of himself, so to say, in the air. He moved from place to place and took these pictures alone…
and more pictures every single day … alone
until he met Robin and the time of his solitude in life and in the pictures was over.
They started jumping together and their photo album was getting thicker.
When Danny decided to take the next step and ask Robin to marry him, obviously there was no other, better and most desired way to do that then by using their passion. He needed this moment to be one of the most amazing proposals in 2012. On July 8th, everything seemed to be normal – he place was magnificent, the camera was set and Robin jumped…However, camera did not take photo, but make a video, and Danny did not jump but kneeled down and ask Robin to marry him…
Did she say "Yes"? Evidently, Danny is a great man, and his creativity doesn't end in the field of photography. It allowed him to enrol in our list of the most amazing proposals in 2012.
5. Lego Video Proposal
For the last few years, we've probably come across many stories about most amazing proposals in 2012, and every year we've heard something more stunning. Atlanta filmmaker – Walt Thompson came up with another extraordinary and unique idea for asking his girlfriend this important question. He created stunning stop motion video using Lego bricks. In thousands of pictures he took, he managed to recreate the history of their relationship from the day they first met…
and fell in love with each other; their first, magic kiss…
Finally, the little Lego man brings to his girlfriend a huge engagement ring…
It cannot be described what kind of emotions played in the heart of Thompson's beloved – Nealey Dozier, especially in the moment where the words "Will you marry me" appeared on the screen. She was so surprised and happy that she did not even remember to answer – they just started kissing and willy nilly, Thompson needed to take that as the "Yes". The film did not end though…Thompson added some visions of their future, happy life…
According to a fairytale ending – and they live happily ever after with the thought that this unique moment was among one of the most amazing proposals in 2012.
6. On American Idol Finale
If we find oneself in favourable conditions or situations, it would be a sin not to use them to our advantage. Willing to create one of the most amazing proposals in 2012, Ace Young, former contestant of the 11th season of American Idol, decided to exploit to the maximum the last moments of his fame, if we are allowed to put it this way. While the show went on with the final edition, Young got down on one knee and ask the question to his girlfriend – Diana DeGarmo.
She said "Yes" in front of million people, so there is no turning back.
In the history of American Idol, probably they won't be remembered for anything else but the romance and the moment of surprise, not only for Diane but all the viewers that were lucky to watch it. The program has brought them together, has made them to fall in love and directed their lives paths on one track. Definitely, there cannot be a better way to organize the most amazing proposals in 2012 than in the place where the love starts.
7. On a Men's Basketball Game
Sport games have always been a good place for making the most amazing proposals in 2012. One of the main reasons is the crowd that attends such events. On the other hand, we like sports and if we can call it a hobby, why not give it a try?! Ed Menuey from Iowa and his partner Judith Shafer have been dating three years and have managed to attend many basketball games together. Ed made some arrangements and succeeded in achieving the wanted goal – he surprised Judith in front of quite a numerous crowd.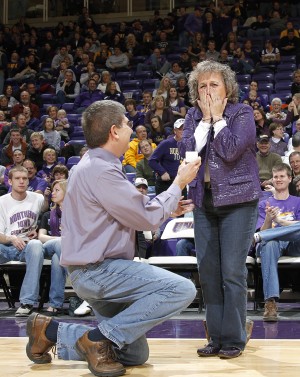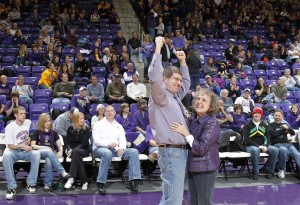 Regarding the age of the couple – Ed is 58 and Judith – 53, they can afford to be crazy. There is no way Judith could foresee such thing may happen during a game! She agreed, but definitely she was very nervous and happy at the same time. For her, these were one of the most amazing proposals in 2012.
It was New Years Day – announcement of new life, and happy events and times to come. As Ed claims it is also easier to remember.
8. Pilot Crashes Plane While Towing Marriage Proposal
Another position on our list of the most amazing proposals in 2012 was given mainly for the unpredictable circumstances. A note of tragedy appeared while Mike was trying to propose to Melissa. He hired an experienced pilot – Mark Simmons…
to fly his plane with a banner saying " Melissa, Will you marry me? Mike".
Everything would be fine and perfect if it was not for the fact that the plane crashed…fortunately the pilot was OK. The next day, brave pilot tried again – this time successfully! If the situation went differently, this would be the most sad and tragic engagement ever. Thanks to the crash, all the world found out about the happy couple and Mike's proposal idea. Nevertheless, it is beyond doubts that the real hero and the main protagonist is the pilot. It is an example of extreme courage when after such a crash, Mark decided to get into a plane and finish what he had started. Thanks to the deed, Melissa and Mike are engaged and happy today. The most amazing proposals ever should be done with close attention to details, here the things were a bit complicated, but still the goal was achieved.
The whole situation made the proposal will be remembered not only by the couple…
9. Mario-themed marriage proposal
We live in the era of computers and all fancy gadgets, aren't we? Hence, more and more marriage proposals turn around these fancy themes. Dimmie Flay, young, Australian fan of Mario Bros games decided to break all the rules and propose to her boyfriend. Both used to play Mario games and, as it seems, they still are. Nowadays, it is difficult to say what the standards are and what are the best ideas to give your beloved the most amazing proposals ever, because today, we create our own standards. It is just what the girl did. The idea Dimmie came up with is extremely original, regarding the very fact, that she is a woman proposing to a man, what leads her idea to our list of the most amazing proposals ever.
Player one is ready and player two is to enter the game. Did player two press start?
Firstly, we can only imagine his astonishment…We have here all that the most amazing proposals ever could possibly have – a note of romance, modern elements and naturally surprise. The thought that he could get such an offer did not even cross his mind; hence the element of surprise was fortified. After a while, when the ability to speak came back to the lips of the man – he said "yes"…but on the condition that he would be player one! Probably it's because of the common conviction that player one always has fancier controller…
10. With the help of a cow
Romance can be found everywhere…It is the basis of the most amazing proposals ever. As we will see, even a cow can be very romantic and convey emotional messages. Nathan Evans decided for a crazy step in his desire to propose. His idea deserves to take place on our list of the most amazing proposals ever. It happened in the Ardingly Ring, where the last day of the three day show was coming to end. It attracted more than 60 thousand people and here, Nathan came to action. What was his plan…
Totally crazy!!! There were planes, cars, balloons, flowers, songs, poems, and tons of other ideas, but a cow is something new…original. What is so unique about mad and crazy proposals? The fact that they may be the most amazing proposals ever! The cow was borrowed and the source of such move is not known. One thing is for sure – Angela said "yes", but was definitely shocked with the way and the animal that was carrying the message.
The most amazing proposals ever can be done with no huge preparations and hardships on the way. Nevertheless, we have to keep in mind that we need to have the idea…the idea which is original, and unique, and is capable of proving your beloved that they are the same – one of a kind, and that for you nothing else matter more. Today it is tougher to come up with something really out of this earth as many people have already reserved the rights of way in some interesting ideas for the most amazing proposals ever.
On the other hand, we are to modify and transform so that they will fit to our possibilities and individual needs. The main core of the operation "proposal" is to be borrowed and the rest of the scenario we can do totally by ourselves. This way, we will get an original character of our most amazing proposals ever. Looking through the list of the most amazing proposals ever, we cannot resist crying, or feeling that our hearts are getting softer, no matter if these are romantic, funny, or simple presented events.
The explanation is tedious – we like when people are in love, and love wakes strong, unstoppable emotions – with no limits and standards regarding the proposal form. Because as the text of the Beatles song goes – "All you need is love, love, Love is all you need". Love is the power that keeps the hearts beating stronger, and minds working faster allowing them to create and make up all those magnificent ideas we know today as the most amazing proposals ever.
10 Most Amazing Proposals In 2012,