Item Number:
60927
Stock Number:
PS071026-YG
Metal:
14KT yellow gold
Finish:
Polished
Weight:
17.00 grams
Cut:
Very Good
---

4.50CT. round cut diamonds tennis bracelet
Band stones : 128 round cut diamonds weighing 4.50CT.I-J in color, and SI in clarity.

Present yourself with our luxuriant 14KT yellow gold diamonds tennis bracelet. Composed with 4.50CT round cut breathtaking diamonds . This tennis bracelet features exquisite diamonds of I-J color and, SI group clarity. Shine with elegance and simplicity with our 14KT yellow gold diamonds tennis bracelet.

All of our items comes with a diamond guarantee - diamonds are 100% real and natural.

LOWEST PRICES, 110% Price Guarantee!

Ask an expert advisor
No pressure, no commission - just lots of good advice from our highly trained staff.
Made to order in the USA
US: Free Overnight Shipping
International: Free 1-2 days Shipping
Order by: 3.00pm EST Today
Estimated shipping: in 3-4 business days
Shop with Confidence - Directly from factory
Customer Reviews for this Item






Add Review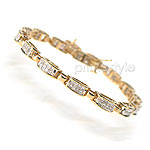 4.50CT Princess Cut Diamonds Tennis Bra
$1,719.99
Diamond Education pages you will learn all the basics you need to know before purchasing your diamond.
Receive News and Special Offers from PrimeStyle