Item Number:
61127
Stock Number:
71109-14-2
Metal:
14KT white gold
Finish:
Polished
Weight:
15 grams
Cut:
Very Good
---

4.00CT. round cut diamonds tennis bracelet
Stones : 63 round cut diamonds weighing 4.00CT.H in color, and SI1-SI2 in clarity.

With a classic design, this bracelet fascinates with its old world appeal. The beauty of this piece is magnified by the round cut diamonds weighing 4.00CT. Framed in 14KT white gold, the diamonds used are of H color and SI1-SI2 group clarity. Garner oodles of attention by getting this bracelet now!

All of our items comes with a diamond guarantee - diamonds are 100% real and natural.

LOWEST PRICES, 110% Price Guarantee!

Ask an expert advisor
No pressure, no commission - just lots of good advice from our highly trained staff.
Made to order in the USA
US: Free Overnight Shipping
International: Free 1-2 days Shipping
Shop with Confidence - Directly from factory
Customer Reviews for this Item






Add Review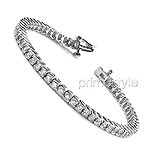 4.00CT Round Cut Diamonds Tennis Bracel
$2,125.99
Diamond Education pages you will learn all the basics you need to know before purchasing your diamond.
Receive News and Special Offers from PrimeStyle