Item Number:
61128
Stock Number:
71114-14-2
Metal:
14KT white gold
Finish:
Polished
Weight:
12.00 grams
Cut:
Very Good
---

3.50CT. round cut diamonds tennis bracelet
Stones : 57 round cut diamonds weighing 3.50CT.H in color, and SI1-SI2 in clarity.

Flaunt this tennis bracelet with your day dresses or evening wear to strike a show. Crafted with round diamonds weighing 3.50CT and 14KT white gold, this piece is a precious possession. Diamonds of H color, and SI1-SI2 clarity set in this piece can make your wrist dazzle like a star!

Made to order in the USA
US: Free Overnight Shipping
International: Free 1-2 days Shipping
Shop with Confidence - Directly from factory

Lifetime Warranty

30 Day Money Back Guaranty

Free Shipping

Verified and Secured

PrimeStyle Rating 4.8/5 Based on 485 Reviews
Customer Reviews for this Item






Add Review
There are currently no product reviews.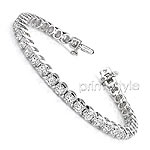 14KT White Gold 3.50CT Diamonds (SI1-SI
$1,636.99
Diamond Education pages you will learn all the basics you need to know before purchasing your diamond.
Receive News and Special Offers from PrimeStyle